What's Happening
in North Logan
♦♦♦♦♦♦♦♦♦
Join the North Logan City Youth Council.
Your skills and ideas are needed.
Click here for application.
Application Deadline: October 10, 2014
♦♦♦♦♦♦♦♦♦
CURRENT BID OPPORTUNITIES:
Elk Ridge Park - Chain link Fence Installation
♦♦♦♦♦♦♦♦♦


Road Surface Treatments scheduled to be applied this fall.

Any questions, please call 752-1310 ext. 16
Asphalt Overlay - September 22nd thru 25th:
2500 North (from 300 E to 400 E)
♦♦♦♦♦♦♦♦♦
Day Of Service


Saturday, September 20, 2014

In previous years, several groups from around the community provided service to their neighbors, along with City projects at the Library, King Park, and several trail installations. The last Day of Service in 2013 was such a huge success providing much needed service around our community that we would like to encourage those interested in providing that same sort of service and generosity for our community to participate in this years Day of Service on September 20th. North Logan City can provide equipment, vehicles, and resources, such as: wheel barrows, shovels, rakes, dumpsters, trucks, and other large equipment to specific neighborhood/scout/church/ward projects - such as those listed below.

General Overview:
Operations Center: Elk Ridge Park NORTH Pavilion - 8am - 10am.
Jeff Jorgensen is the contact (435-752-1310), secondary contact is Alan Luce (435-764-1708).
Neighborhood/Ward/Church/Group Projects:
Residential yard/home cleanup. Resources the City can provide: Large trucks, rakes, shovels, pruning tools, saws, dumpsters (if ordered in advance). The equipment is on a first-come-first-served basis - so please contact the City as soon as possible to arrange for resources.
Potential City Projects:
Police Station: Help with landscaping installation, tree planting, irrigation line installation.
Library Exterior: Removal of existing planters/plants/weeds. Installation of new plants and shrubs throughout grounds.
Library Interior: "Spring Cleaning", dusting, touch up paint, floor cleaning.
King Nature Park: Weed removal, grass removal (in trails), general cleanup, help install portions of the fence.
Centennial Trail Installation and Maintenance: Install 200' segment, and reinstall a fence, weed/grass removal, add gravel where needed.
Stroud Trail Work: Help transplant sod to police station and fix areas along existing trail.
Cleanup Green Waste piles by green waste bins.
Weeds around horse arenas at Meadow View Park.
Pull all weeds along north swale and fence line on 1900N above canal.
Refreshments:
Youth City Council, and North Logan City Royalty will bring around water and refreshments
♦♦♦♦♦♦♦♦♦




Oct 17: Pumpkin Run
6pm: Elk Ridge Park

Rescheduled into November:
Pumpkin Smash Volleyball Tournament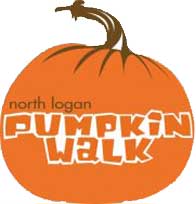 8:30am: Elk Ridge Park
Oct 23-25, 27,28: Pumpkin Walk
Elk Ridge Park
www.pumpkinwalk.com)
♦♦♦♦♦♦♦♦♦
North Logan City's Mass Communication System:
North Logan City has implemented a community information communications program. This allows the City to alert you quickly for any emergency, water shut off, road closure, city event or any important information we feel would benefit you and your family. If your information with the City is correct and current, we will notify you via your home phone, cell phone, email, or text.
It is North Logan City's desire to inform our residents as quickly as we can when time is short.
The City already has some information through the Utility/Billing Department, but if you would like to update your contact information or make sure it is current please complete and submit the City's Mass Communication Form by Clicking Here. Bring Form into the City Offices or mail it with your Utility Bill.
♦♦♦♦♦♦♦♦♦
NON-RESIDENTS' Use of the North Logan Library:
A Family Non-Resident Library Card is available (see Library for details).