What's Happening
in North Logan
♦♦♦♦♦♦♦♦♦
Learn to Skate
Eccles Ice Center (435) 787-2288
2825 N 200 E, North Logan, UT
Fall Sessions:
Tuesdays at 4:45pm, Sept 1 - 22 (4 week session)
Thursdays at 4:45pm, Sept 3 - 24 (4 week session)
♦♦♦♦♦♦♦♦♦
City Council Candidates invite you to
"Meet Me at the 25th Street Market."
Ask questions, share concerns, or just get acquainted. This is the perfect spot to have a one-to-one audience with your future city representatives.
September 12th - Kristen Godfrey Anderson (incumbent)

September 19th - Bruce Lee

September 26th - Damon Cann (incumbent)

October 17th - Gordon Younker

October 17th - Roger Anderson (incumbent)
The date for candidate Brad Crookston is yet to be determined. There will be weekly updates in the Market Newsletter as well as other information on Market produce and vendors, presentations and events. You can subscribed to the 25th Street Market newsletter by visiting northloganmarket.com and selecting the Newsletter link under "What's Happening".
♦♦♦♦♦♦♦♦♦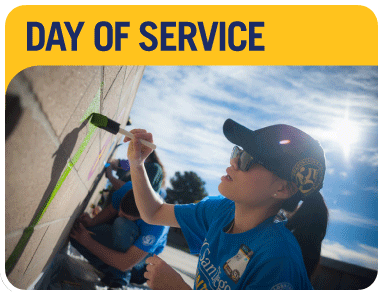 Annual City-Wide Day of Service
September 26th
Contact: Alan Luce - 435-752-1310 ext 16
or Jeff Jorgensen - 435-752-1310 ext 14
North Logan City will be hosting the 4th annual Day of Service on Sept. 26, 2015. Local neighborhoods, church groups, scout troops, and others are encouraged to participate in service projects on behalf of their neighbors. In addition, there will be several city-wide service projects in our public parks, trails, facilities, and our new police station. The City will be able to provide resources for a large number of projects throughout the City, first come, first served.
Be ready to kick off another successful year of serving in your community?! Bring your rakes, shovels, gloves or whatever other tools will assist you in the project of your choice. Report to the North Pavilion at Elk Ridge Park between 8:00am and 10:00am. Many neighborhoods and church groups are also planning their own projects.
♦♦♦♦♦♦♦♦♦
♦♦♦♦♦♦♦♦♦
NORTH LOGAN CITY 2015 ELECTION NOTICE
North Logan will hold a General Election on Tuesday, November 3, 2015 to elect three City Council members. Each position is a four-year term. The polls will be open from 7 am to 8 pm. In accordance with Utah Code Annotated 20A-6-305 (Master ballot position list), the City Council candidates will appear on the Municipal General Election ballot as follows:
Kristen Godfrey Anderson

Roger T. Anderson

Bruce W. Lee

Damon Cann

Bradley Crookston

Gordon L. Younker
♦♦♦♦♦♦♦♦♦
♦♦♦♦♦♦♦♦♦
Interested in the layout of the new
High School in North Logan?


Click here for the High School Complex Plan
♦♦♦♦♦♦♦♦♦
North Logan City's Mass Communication System:
North Logan City's Communication System can alert you to emergencies, water shut off, road closures, city events and other important information.
For those receiving a Water/Sewer bill, the City may have your contact information. To add/update contact information please submit the City's Mass Communication Form - bring it to the City Offices or mail it with your Utility Bill.
For those who do not receive Water/Sewer bills from the City (renters, member of PUD's, etc.), you may add your information through our Online Form.
♦♦♦♦♦♦♦♦♦
RESIDENTS - See a need, problem or fix in our City? Use one of the following online forms to let City Staff know:
♦♦♦♦♦♦♦♦♦
NON-RESIDENTS' Use of the North Logan Library:
A Family Non-Resident Library Card is available (see Library for details).