♦♦♦♦♦♦♦♦♦
♦♦♦♦♦♦♦♦♦
SUMMER ACTIVITIES
(North Logan Parks & Rec)


Youth Fall Soccer League
#1 Rec. League in Cache Valley
This league is for kids 3-9 yrs
One more week for registration!

Youth Fall Flag Football
For kids in 1st to 7th grade
♦♦♦♦♦♦♦♦♦
ATTENTION:
Chip Sealing of 2500 North (Main to 1250 E)
WARNING: There will be loose rock on the road surface for a few weeks after the application. For the safety of pedestrians and vehicle windshields, please keep vehicle speeds below 15 miles per hour.
♦♦♦
NOTICE:
Waterline Replacement
(400 East - from 1500 N to 1800 N)
North Logan City has made arrangements to replace the main waterlines along your street over the next several weeks (400E, from 1500N to 1800N). We are very sorry for the inconvenience this may cause, as you may have some brief times when your water will need to be shutoff. Similarly, there will be times (2-3 hours) when it will be difficult to access your home, business, or building.
It is difficult to know exactly where the installation will occur each day. However, we will try to keep you as informed as possible through the City website (www.northlogancity.org).
We will be posting updates as to when and where we will be working in the coming days.
♦♦♦♦♦♦♦♦♦
Needed - District Committee Members
Input from those who live and work in those disctricts
Contact a Planning Commission Member, Community Development Director, or City Planner
(Cordell Batt, 435-752-1310 ext. 10)
♦♦♦♦♦♦♦♦♦
Click here for the NLC 100 Miler Brochure
Click here for an Activity Listing Comparison
(Minutes to Miles)
No Registration Required, just maintain your own records
♦♦♦♦♦♦♦♦♦
Logan & Northern Canal Piping & Pressurization Project (LNCPPP)
Construction: Fall 2015 through Spring 2016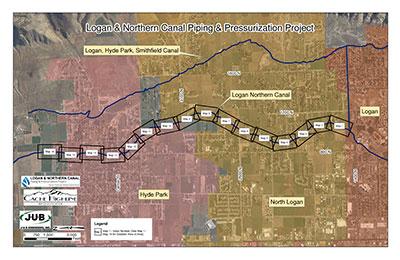 CLICK HERE
* Construction updates *
♦♦♦♦♦♦♦♦♦
North Logan City's Mass Communication System:
North Logan City's Communication System can alert you to emergencies, water shut off, road closures, city events and other important information.
For those receiving a Water/Sewer bill, the City may have your contact information. To add/update contact information please submit the City's Mass Communication Form - bring it to the City Offices or mail it with your Utility Bill.
For those who do not receive Water/Sewer bills from the City (renters, member of PUD's, etc.), you may add your information through our Online Form.
♦♦♦♦♦♦♦♦♦
RESIDENTS - See a need, problem or fix in our City? Use one of the following online forms to let City Staff know:
♦♦♦♦♦♦♦♦♦
NON-RESIDENTS' Use of the North Logan Library:
A Family Non-Resident Library Card is available (see Library for details).