What's Happening
in North Logan
♦♦♦♦♦♦♦♦♦
North Logan Library
Summer Reading Event
♦♦♦♦♦♦♦♦♦




Elk Ridge Park South - Anticipated Construction Timeline

East Field:
Liner and drainage system installed: 6/20-7/11
Base material hauled in, graded, compacted: 7/14-7/25
Astroturf stretched and installed: 7/28-8/04
Anticipated Play: 8/18

West Field:
Liner and drainage system installed: 6/25-7/25
Base material hauled in, graded, compacted: 7/25-8/01
Astroturf stretched and installed: 8/04-8/18
Anticipated Play: 8/25

Grass Areas:
Irrigation installation: 7/25-8/30
Hydro Seed: 8/30
Anticipated Play: Spring 2015

♦♦♦♦♦♦♦♦♦
COMMUNITY EVENT -BIKE TO SCHOOL OUTREACH

New Life Fellowship needs your unwanted bikes, unwanted bike parts, or even your financial support for their 2nd ANNUAL BIKE TO SCHOOL OUTREACH.
Drop items off at the church location (2045 N 800 E, North Logan), or call (435) 890-2699 and arrangements will be made to come to you. Fixed bikes will be given away on July 19th to kids that need them for school - FREE!!! Last year - with community help - New Life Fellowship was able to bless more than 30 kids with a bicycle.
Where: 2045 N 800 E in North Logan
Call for information: (435) 890-2699
♦♦♦♦♦♦♦♦♦
♦♦♦
PARADE starts at 10am
Route: North on 1600 E and West on 2100 N - Click Here for map.
♦♦♦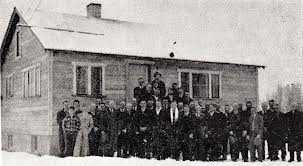 CALLING ALL 80 YEAR OLDS!

We would like to recognize the early residents of North Logan at our Pioneer Day festivities in July. If you were a resident of North Logan City when it was incorporated in 1934 and would like to be part of our festivities, please contact Alan Luce at alan@northlogancity.org or call the city offices at 435-752-1310.
♦♦♦♦♦♦♦♦♦
2014 Summer Exercise Activity
Click here for the NLC 100 Miler Brochure for an Activity Listing Comparison
(Minutes to Miles)


♦♦♦♦♦♦♦♦♦
North Logan City's Mass Communication System:
North Logan City has implemented a community information communications program. This allows the City to alert you quickly for any emergency, water shut off, road closure, city event or any important information we feel would benefit you and your family. If your information with the City is correct and current, we will notify you via your home phone, cell phone, email, or text.
It is North Logan City's desire to inform our residents as quickly as we can when time is short.
The City already has some information through the Utility/Billing Department, but if you would like to update your contact information or make sure it is current please complete and submit the City's Mass Communication Form by Clicking Here. Bring Form into the City Offices or mail it with your Utility Bill.
♦♦♦♦♦♦♦♦♦
NON-RESIDENTS' Use of the North Logan Library:
A Family Non-Resident Library Card is available (see Library for details).